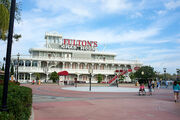 The Empress Lilly
is a static replica paddle steamer riverboat on
Village Lake
. It is 220 feet long and 62 feet wide. The "boat" is actually a boat-shaped building with a submerged concrete foundation. Built for the
Walt Disney World
Resort in 1976, it contained three restaurants and a jazz lounge. It greeted guests for the first time on May 1, 1977, when it was christened by
Lillian Disney
,
Walt Disney
's widow for whom the ship is named.
The Empress Lilly was designed by Walt Disney Imagineering to be as true to the eye as possible. The gingerbread scrollwork and stained glass detailing gave the ship an authentic feeling, which hearken back to the days of Mark Twain's Mississippi River. The paddle wheel at the aft end of the boat constantly churned, though the ship never moved. The Empress Lilly was one of the first locations of the now famous Disney Character Breakfasts.
In the mid 1990s, Disney began to engage outside operating partners to take over many of its restaurants. As a cost-cutting move, it was decided that the Empress Lilly would come under new management. Levy Restaurants signed a contract to operate the ship for 20 years. On April 22, 1995, the Empress Lilly served her last meals. The restaurant was closed, all interiors were ripped out, and a new décor for a single restaurant was put in place. In addition, the old smoke stacks and paddle wheel, which gave the Lilly some added authenticity, were removed due to rust and rot. They were not replaced. The restaurant reopened as Fulton's Crab House on March 10, 1996.
Baton Rouge Lounge was located forward on the main deck. Here, patrons could relax at the bar and enjoy the musical sounds of the Riverboat Rascals. Many of these musicians played in the Baton Rouge for years and became local legends. Some of the musicians who played with the Riverboat Rascals include Fast Eddie Erickson, Dave Tobiasen, Tom Bucci, Denny Zavett, Ralf Reynolds, Mike Gentry, Randy Morris, Dan Riley, John Charles, and Bill Dendle.
Steerman's Quarters was located in the aft section of the main deck. It specialized in certified Angus beef entrees. The décor featured nostalgic imagery of America's western cattle. In the aft end of the room, giant windows revealed the nearby churning paddle wheel.
Fisherman's Deck was located forward on the promenade deck. As its name implies, this was a seafood restaurant.
Empress Room was located aft on the promenade deck. This was a formal dining establishment which required reservations in advance. The room was extravagantly decorated, with gold-trimmed walls and Rococo (Louis XIV) style flourishes. Hungarian chef Garry Reich developed the original menu to cater to upscale tastes.
Sources & External Links
Edit